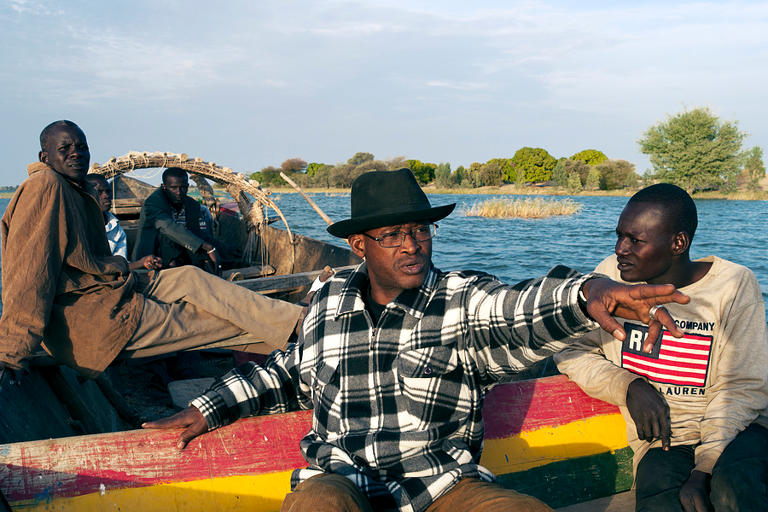 Afel Bocoum, center, on the Niger River, 2010
An essential member of Ali Farka Toure's band and a friend of Ali's for more than three decades, Afel Bocoum was as close to Ali Farka Toure as anyone. In the making of a film centered around the search for the soul of Ali Farka Toure the help of his brother and confidant Afel Bocoum is essential.
Afel took his first steps into the limelight with his debut solo album, Alkibar: Messenger of the Great River, in 1999. It was recorded along the banks of the Niger River, during a five-day break from working on Toure's album Niafunke. Alkibar set finger-picked guitar melodies and soulful vocals, in the Songhai, Fula, and Tamashek languages, to a musical tapestry of lute, monochord djurkle, calabash, spike fiddles, and a three-voiced choir.
The BBC reviewed Bocoum's performance on the album as "gentler than the stabbing blues style of Ali Farka Toure. Bocoum's sound is poly-rhythmic, warm, and enchanting with simple magnetic melodies and hummable choruses." The son of a njoika and djurkle player, Bocoum began playing with Toure, in Troupe Musicale De Niafunke, at the age of 13. Although he left the group to study agriculture at M'Pessoba University in southern Mali, in 1975, he reunited with his former mentor in Toure's band, Asko, in the early 1980's and spent many of the following years touring with Ali until his death in 2006.
Afel a close friend of Sam and Paul's is central to the production. His ability to act as a liaison between the musician/actors and the production is pivotal to the success of the project and his input on all matters regarding the Farka Toure family is instrumental in shielding the production from making the mistakes of outsiders entering an unfamiliar environment.
Afel is our key liaison, his language ability and his status in the musical community make proceeding without him an impossibility.