WRITER / DIRECTOR
Sam Shainberg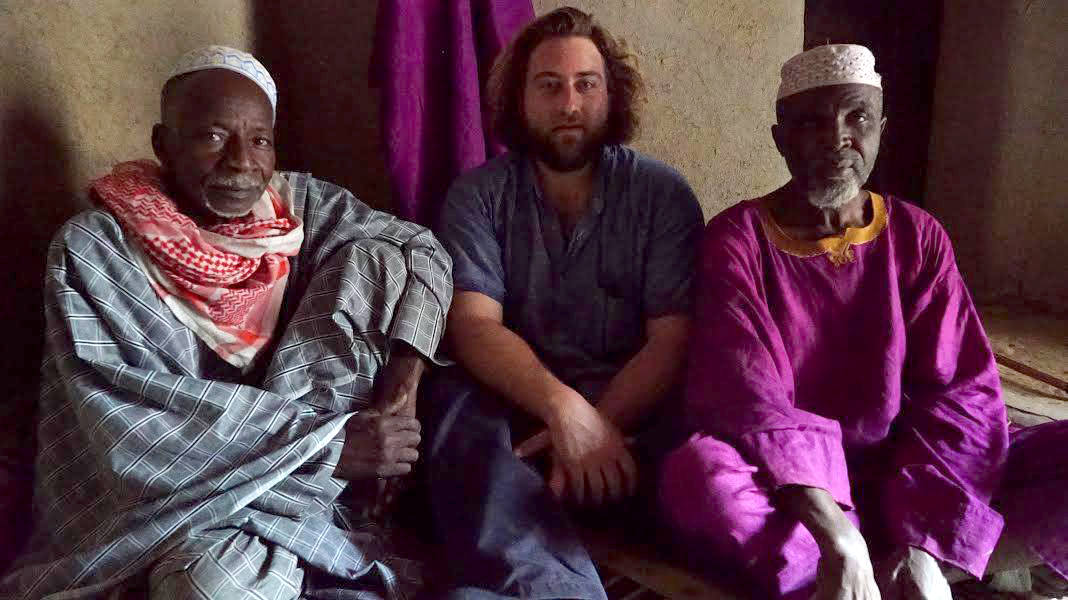 Sam Shainberg, the director, in Djenne Mali, 2015
Sam was born and raised in New York City. Since graduating from Bard College he has worked extensively in the New York film industry. Along with independently directing his own short films and producing music videos, he worked in documentary film for MyBlockNYC as head journalist/producer supervising a team of video journalists and editors to create short form documentary works that were released on the MyBlock platform as well as on the Huffington Post's website. He has also produced short documentary work for Rolling Stone magazine in Mali, most notably a piece featuring Vieux Farka Toure, Vieux Mali's star.
Sam has also traveled extensively in Mali and West Africa putting many years and many hard yards into the preparation for this film. He is intimately acquainted with the politics, logistics and personalities of importance in Mali and has developed, over time, a network necessary for working in this always complex and sometimes hostile environment.
Sam's last short film, LiFT, was well received by audiences and his colleagues and respected for its adventurousness and commitment to a style of mixed narrative and documentary cinema, reminiscent of John Cassevetes' and Werner Herzog's 1970's efforts. The film was, like Vieux Mali, set in a hostile environment, the Ocean Village housing project in Far Rockaway New York, where Sam and his crew shot illegally on rooftops and preformed special effects with the tenacity of a paramilitary unit.
Vieux Mali will be Sam's debut feature film.
Co-Writer
Sam Cohan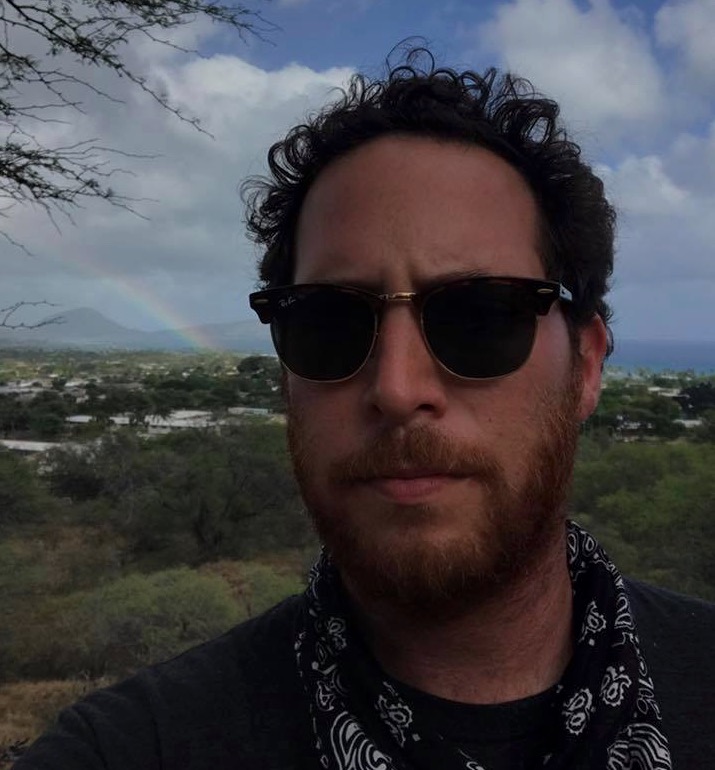 Sam Cohan, co-writer, on location in Hawaii for Vice
Born and raised in Boston, MA, Sam Cohan is an award winning playwright and screenwriter. The child of a pediatrician and a female news executive, Sam's childhood was spent surrounded by medicine and breaking news – two worlds which continue to fascinate him and expose him to a wealth of stories, characters, politics and scenarios. In 2005 a chance opportunity allowed Sam to travel to Rome, Italy where for four years he made films and immersed himself in an international community of artists, diplomats, ambassadors and journeymen.
In 2010 Sam moved to Los Angeles and two years later, in 2012, Sam co-wrote the Sundance Film Festival Award Winning film "Fishing Without Nets" with director Cutter Hodierne. Most recently Sam sold "The Big Picture," a one-hour drama set in 1947 Hollywood, to Gold Apple Productions.
A graduate of Milton Academy, Bowdoin College, The National Theater Institute and an inaugural member of the True Pictures Professional Development Lab, Sam is represented by Jeff Hynick at Jackoway, Tyerman, Wertheimer, Austen, Mandelbaum, Morris and Klein. Sam currently lives in "The Chandelier Tree," a public art installation in Silverlake, California.
In 2015 Sam's Script "The Closest Thing to Rain" was named to The Hit List.
MALI BASED PRODUCER
Paul Chandler
Paul Chandler at the Festival in the Desert, Essekan Mali, 2010
Paul Chandler is a film producer, musician, educator and music producer living and teaching in Mali since 2003. He is the founder and director of Instruments4Africa, a 501c3 that supports traditional music in Mali and produces large scale music festivals featuring both locally and internationally known musicians.
These festivals have often, since 2012, taken place in extremely complex and hostile environments in the north of Mali and are used to promote peace and reconciliation in the region. Through this work Paul has fostered relationships with community leaders in the region that are invaluable to the making of Vieux Mali.
Paul, during his 15 years in Mali, has also produced events and organized projects for National Geographic, NY Times, Carnegie Hall, USAID, Johns Hopkins/Bloomberg School of Public Health, US Department of State, UNICEF, APE Artists Project Earth, ABC, National Museum of Mali, Ministry of Culture (Mali), ICRISAT, and BONO's non-profit organization DATA.
In the past year Paul has produced a documentary feature called "It Must Make Peace" that features many of the same musicians who will be acting in Vieux Mali. The film is in its final stages of post-production, test screenings in Mali have met with incredible reviews.
Paul is also a visionary educator, his music program at the American International School of Bamako fused western theory and pedagogy with traditional music and instrumentation. The program included an artist in residence program featuring some of Mali's most accomplished artists many of whom Paul has produced albums for. This list includes Salif Keita, Khaira Arby, Bassekou Kouyate, Bono, Damon Albarn, Toumani Diabate, Oumou Sangare, Rokia Traore, Ali Farka Toure, Amadou and Mariam, Cold Play, Habib Koite, Youssou N'dour, Cheick Tidjane Seck, Lucy Duran, Vieux Farka Toure, Sidiki Diabate, Baba Salah, Afel Bocoum, Babani Kone, Samba Toure and many others. You will notice that many of these names are reflected in our cast list, the trust Paul has cultivated being our point of embarkation when pitching Vieux Mali to our actors.
Without Paul's passion, experience and relationships Vieux Mali would be impossible to produce.
STAR ACTOR AND PRODUCER
Vieux Farka Touré
Vieux Farka Toure, at home in Mali, 2009
In addition to committing to being the star of the film, Vieux Farka Touré, the son of the legendary guitarist Ali Farka Touré, has generously offered to help in all aspects of production. Having Vieux on set to sign off on issues of authenticity is a privilege that Sam and the production staff have worked long and hard to be honored with. Vieux is also instrumental in keeping production costs as low as possible by offering help in securing the rights to Ali's music and making sure that the production is at no time taken advantage of—carrying the Farka Toure name onto the battle field of production in Mali essentially opens all doors.
Without Vieux Farka Touré there is no Vieux Mali.
CHIEF FIXER AND MALIAN PRODUCER
Youssouf Coulibaly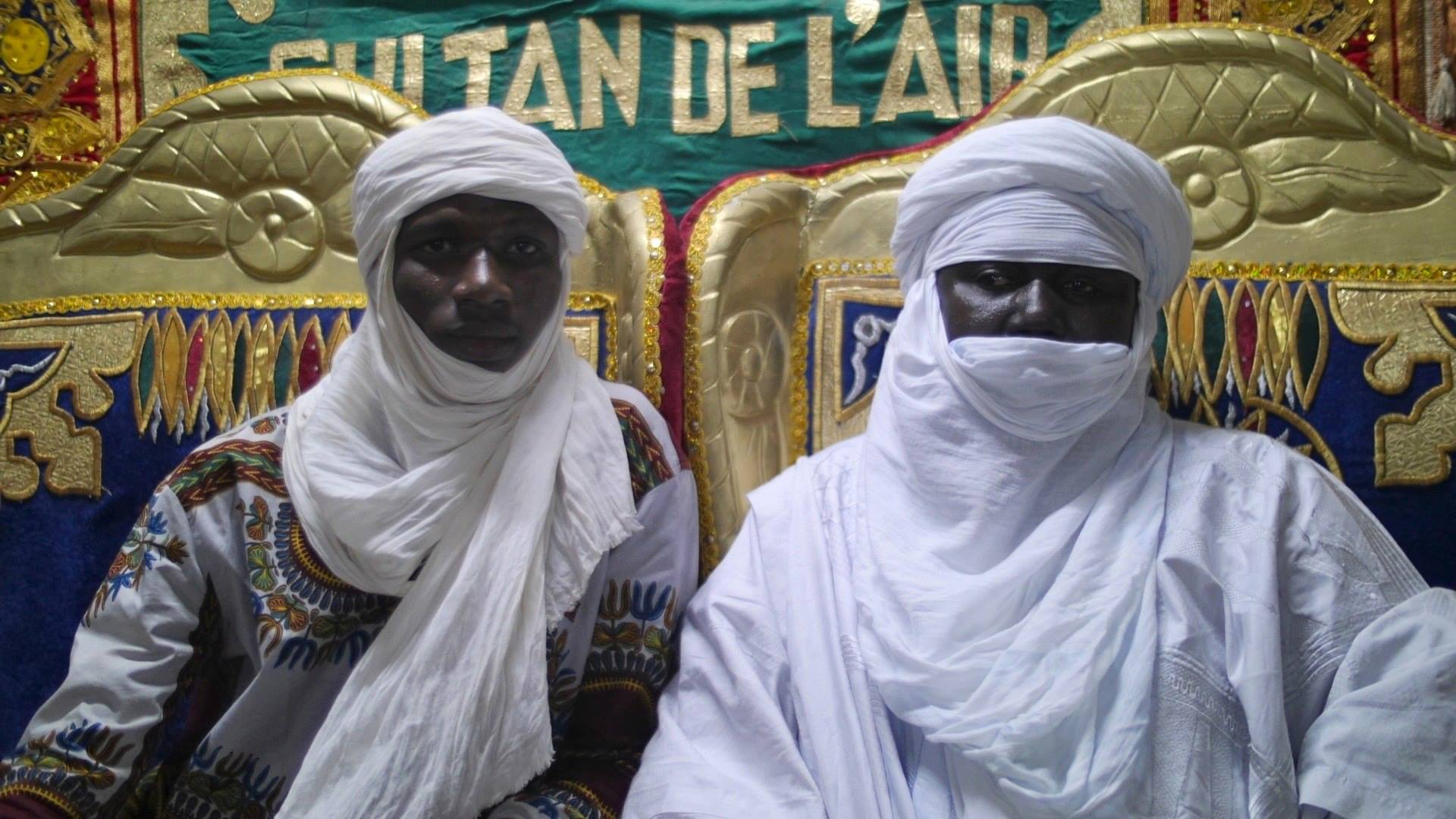 Youssouf Coulibaly, left, with the Sultan of Agadezz Niger, 2013
Youssouf Coulibaly, a Bamako native, in addition to being a trained architect, is an accomplished fixer and producer. He most recently worked with Bob Coen, formerly of CNN, to produce the documentary "Shadow Wars of the Sahara" for Arte. The film was shot in the period after the coup d'etat in Bamako and during the height of the 2012 Tuareg rebellion in extremely dangerous locations such as Gao, Kiddal, Timbuktu and Agadezz in northern Niger. Youssouf, with great passion and commitment, sheparded the entire project, and its crew, through all these hostile environments. The film debuted in January 2015 on French and German television on the Arte channel and stirred up quite a bit of controversy. The Tuareg Nationalist Movement (MNLA) featured the film on their website.
Sam Shainberg and Youssuouf have been working together in Mali for the past three years and have become extremely close. Youssouf's contribution to logistical and safety planning are irreplaceable when producing films in Mali.
Youssouf keeps everyone safe and happy in Mali's adverse environments.
CULTURAL CONSULTANT AND ACTOR
Afel Bocoum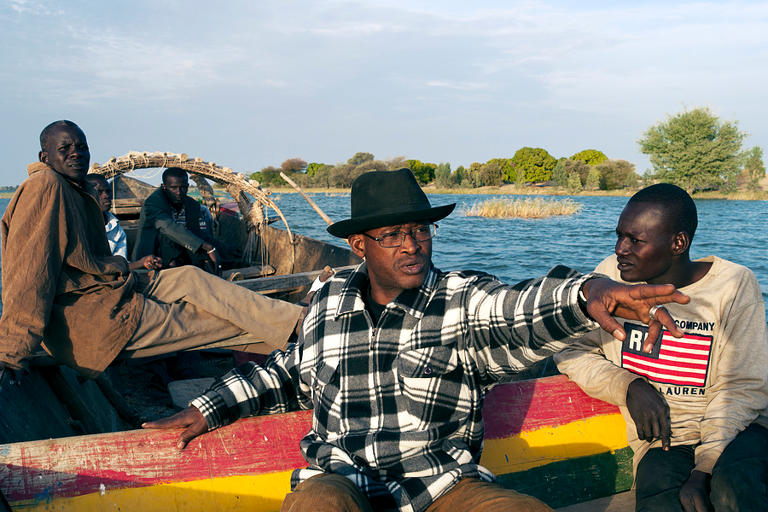 Afel Bocoum, center, on the Niger River, 2010
An essential member of Ali Farka Toure's band and a friend of Ali's for more than three decades, Afel Bocoum was as close to Ali Farka Toure as anyone. In the making of a film centered around the search for the soul of Ali Farka Toure the help of his brother and confidant Afel Bocoum is essential.
Afel took his first steps into the limelight with his debut solo album, Alkibar: Messenger of the Great River, in 1999. It was recorded along the banks of the Niger River, during a five-day break from working on Toure's album Niafunke. Alkibar set finger-picked guitar melodies and soulful vocals, in the Songhai, Fula, and Tamashek languages, to a musical tapestry of lute, monochord djurkle, calabash, spike fiddles, and a three-voiced choir.
The BBC reviewed Bocoum's performance on the album as "gentler than the stabbing blues style of Ali Farka Toure. Bocoum's sound is poly-rhythmic, warm, and enchanting with simple magnetic melodies and hummable choruses." The son of a njoika and djurkle player, Bocoum began playing with Toure, in Troupe Musicale De Niafunke, at the age of 13. Although he left the group to study agriculture at M'Pessoba University in southern Mali, in 1975, he reunited with his former mentor in Toure's band, Asko, in the early 1980's and spent many of the following years touring with Ali until his death in 2006.
Afel a close friend of Sam and Paul's is central to the production. His ability to act as a liaison between the musician/actors and the production is pivotal to the success of the project and his input on all matters regarding the Farka Toure family is instrumental in shielding the production from making the mistakes of outsiders entering an unfamiliar environment.
Afel is our key liaison, his language ability and his status in the musical community make proceeding without him an impossibility.
CULTURAL AND PRODUCTION CONSULTANT
Cheick Oumar Sissoko
Cheick Oumar Sissoko, Malian Film Institute, 2016
Cheick Oumar is one of the greatest cinema directors that Africa has ever produced. The majority of his filmmaking career has been spent in residence at the Centre National de la Production Cinématographique (CNPC), where he directed Sécheresse et Exode Rural ("Drought and Rural Exodus"). Then in 1995, he directed "Guimba (The Tyrant)," which won special jury prizes at the International Film Festival of Locarno and l'Etalon de Yennenga ("Stallion of Yennenga") at FESPACO (the Panafrican Film and Television Festival of Ouagadougou).  In 1999, "Genesis," staring Salif Keita among others, was released, which won Sissoko another Etalon de Yennenga at FESPACO. In 2000, he directed Battù, based on a novel by Aminata Sow Fall which won him the RFI Prize for Cinema at FESPACO in 2001.
Beyond the world of cinema Checik Oumar is extremely active politically. In 1996 he and Oumar Mariko founded a political party, African Solidarity for Democracy and Independence (SADI). Cheick Oumar is the party's president.
On October 16th 2002 he was nominated as the Minister of Culture in the government of Prime Minister Ahmed Mohamed Ag Hamani and he remained Minister of Culture in the government of Prime Minister Issoufi Ousmane Maiga, which was named on May 2, 2004.On August 8, 2007, following the death of the minister of education in July, Sissoko was named Minister of National Education, while remaining Minister of Culture.
Cheick Oumar's political connections open the way to much needed governmental support in Mali and his experience producing films in Mali is unparalleled in the country's history, making him a key resource for the production of Vieux Mali. Cheick is also personally invested in the film as he was a friend of Ali Farka Toure's and accompanied his body home to Niafunke after Ali's death—an experience that is echoed in the plot of Vieux Mali.