LOG LINE
In the shadow of Mali's 2012 Tuareg rebellion and subsequent coup, Vieux Farka Toure, 35, heads north on a motorbike, desperate to secure a convoy of trucks to prove to himself that business and order are the only way for himself, and ultimately Mali, to survive. He is simultaneously trying to shake off the legacy of his father, the late Ali Farka Toure, the greatest of Mali's desert blues men. But when Vieux runs into trouble on the road, he finds he has to rely on his father's friends, the traditional musicians of Mali, to get him where he is going.
SYNOPSIS
MALI, WEST AFRICA, 2012
A sand storm rips through the northern town of Niafunke. Gunfire crackles as a jeep flying a black jihadist flag comes barreling down the street. Mohammed Traore keeps low and out of sight until the street is quiet then he stands and listens. The wind carries the faint sound of a song, 'Ai Du.' Mohammed covers his eyes against the sandstorm, searching for the source of the music. Suddenly, the spirit of the late Ali Farka Toure, Mali's greatest desert blues guitarist, appears before him, ethereal in the swirling sand.
Ai du Live – Vieux Farka Touré

Back in the capitol Bamako, Vieux Farka Toure, the son of Ali Farka Toure, has rejected his family's musical legacy, believing in business as the key to a stable life and a stable Mali. Struggling as a truck importer and worried about his mother in the north where a Tuareg rebellion is growing, he receives a call telling him that the combined Tuareg Nationalist (MNLA)/Jihadist advance threatens his long-awaited shipment of trucks from Niger. Now Vieux must find a way north to claim the trucks or lose his dream of a more stable future.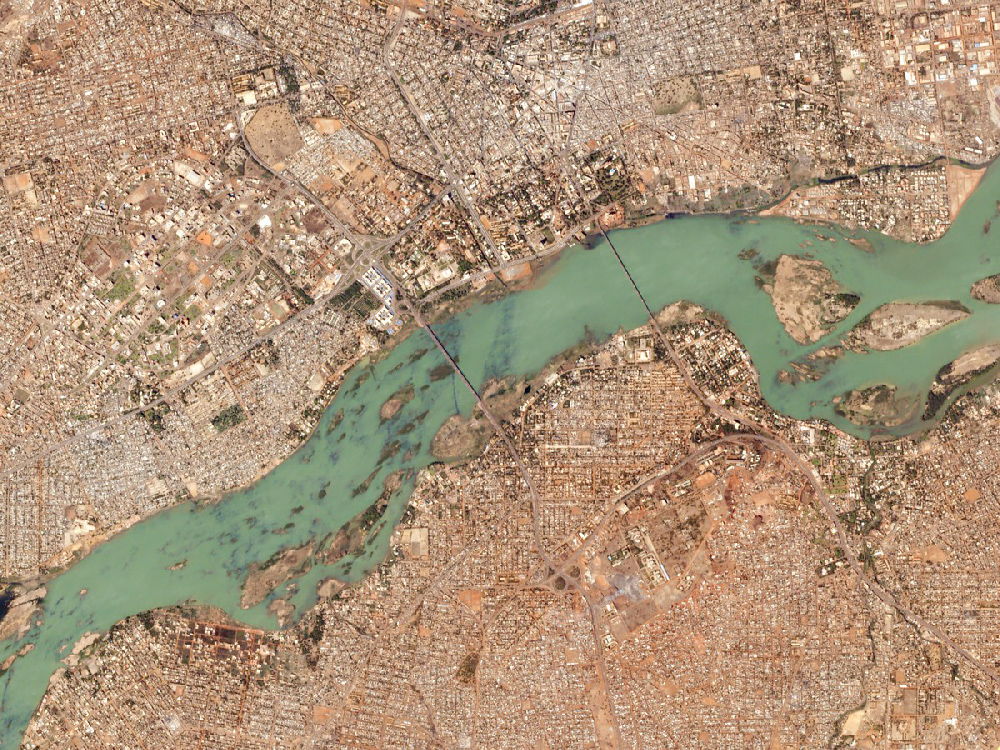 Seeking funds for his journey, Vieux offers his father's heirloom guitar to Toumani Diabate, the famous Kora player, hoping to sell it for the cash he needs. Diabate refuses and warns Vieux not to reject his hereditary link to the desert blues and Malian tradition. As Vieux makes to leave, Mohamed arrives from Niafunke with the story of his vision. Impatient with the mythologizing of his father and the old religion's worship of the desert Djinns (spirits), Vieux departs in search of cash, ultimately meeting with a gangster who buys his father's guitar for half its value and a motorcycle that Vieux can ride north. The next morning as Vieux leaves Bamako, the radio reports that a coup has toppled Mali's sitting president. Realizing that this shift in events further threatens his business, he sets off into the north more determined than ever to get the trucks he needs to salvage his business.
Vieux rides quickly, determined to get to the northern city of Gao where his trucks have been impounded, but he is forced to stop and consult his elders. When he stops in Konodimini, his uncle helps him plot his course and warns an impatient Vieux that he must stay off the roads at night, finding shelter in local villages until it is safe to ride in the light. When he encounters engine trouble in Garana, he is rescued by Bassekou Kouyate, Mali's premiere traditional lute player, and an expert mechanic. While waiting for his bike to be fixed he is dragged to a Maribou (witch doctor) who instructs him, to his dismay, that the only way to complete his journey is to go slow and respect all the spirits.
Back on the road, having lost precious time, Vieux is forced to stop for the night in Djenne at the home of his father's best friend, Afel Bocoum. Waking in Djenne on the holiest day of the year, he finds himself trapped in the middle of the ceremony of Crepissage at the Grand Mosque. Afel, who disapproves of Vieux's focus on business, forces him to participate in the ceremony. Later, having noticed the smallest of spiritual shifts in Vieux, Afel asks him to stop at the home of another friend of his father's, the extremely spiritual Boubacar "Kar Kar" Traore, in the hope that Vieux will see the importance of the old ways. Vieux promises he will, but when a text from Gao reports that his trucks are in danger of being sold, he is reminded of the urgency of the journey and he heads directly north.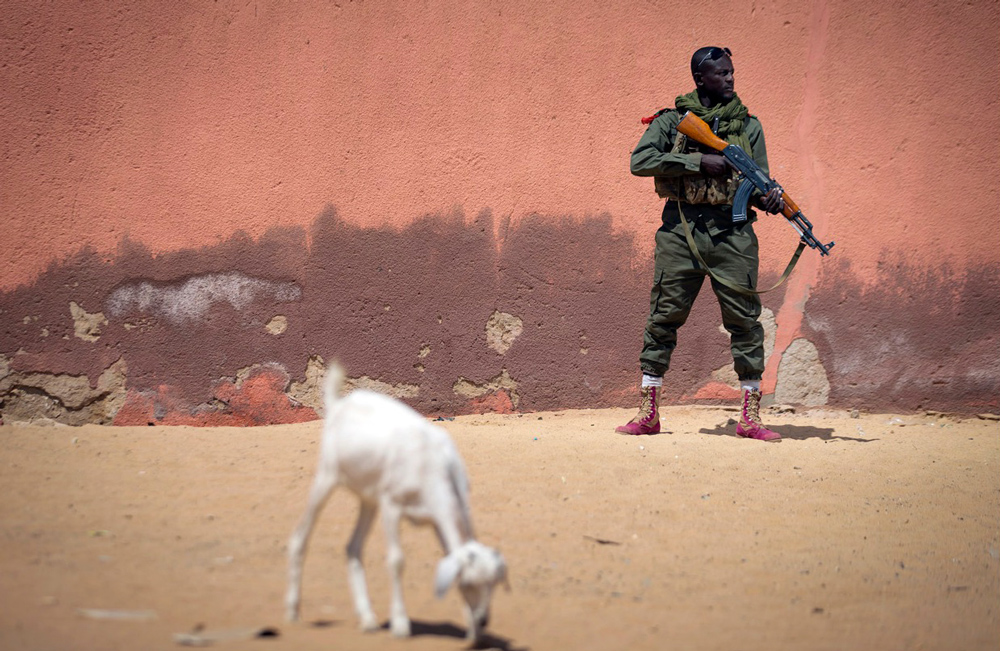 Stopped at a military checkpoint in Somadougou, Vieux is forced to detour toward the dangerous town of Mopti where he is surprised to find himself at Kar Kar's home. Kar Kar welcomes him in and recounts to him a dream prophesizing his arrival. In the dream, Vieux's father Ali stood on the cliffs of Pays Dogon demanding that Kar Kar give Vieux Ali's first instrument, his djurkel. Vieux is uncomfortable with the gift and tries to leave the instrument behind, but finally gives in and piles it on to his bike with the rest of his belongings.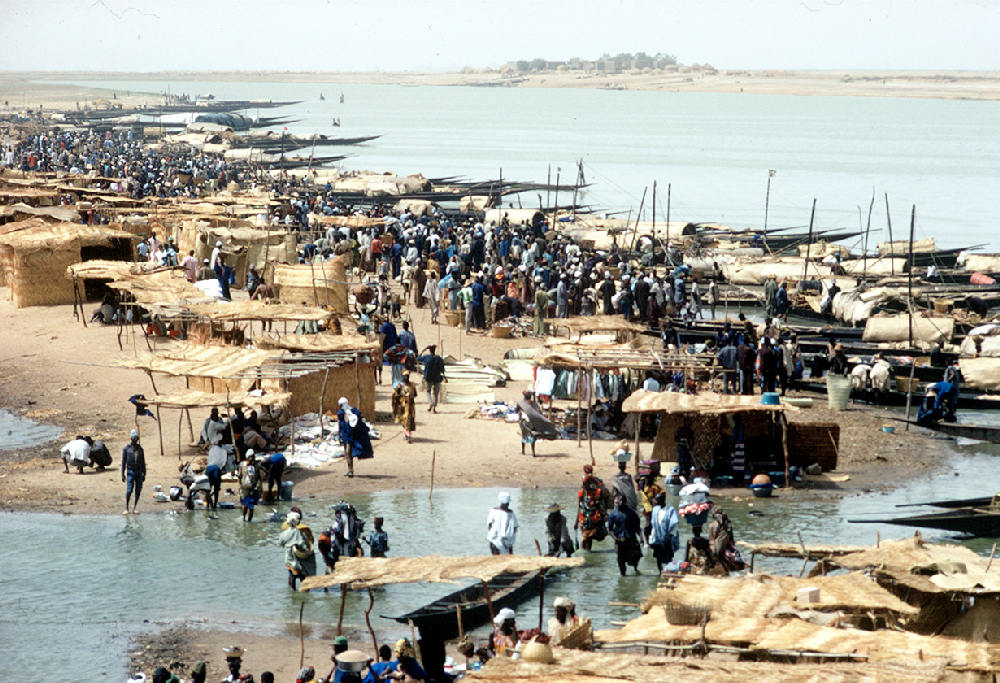 The further Vieux travels, the more uncertain the news from the north becomes. The violence of the rebellion is inching closer and closer to Gao, where Vieux's trucks are, and to Niafunke, where his mother, who he has been staying in phone contact with, lives. In Mopti, Vieux hires a captain to take him by boat past the roadblocks only to be robbed and left penniless with only his motorbike and the djurkel. While he's still stuck in Mopti, a group of refugees, fleeing the jihadist persecution of musicians in the north, invites businessman Vieux to sit with them as they play and soon he confesses, to himself and to them, his musical lineage. Moved by their respect for his father, the musicians bring Vieux to a captain who will help him get north.
Finally around the roadblocks and making progress, Vieux runs out of gas in the shadow of the famous rock formation, Fatima's Hand. With no gas station in sight and unable to reach his truck contacts or his mother by phone Vieux pushes his bike onto the grounds of a derelict hotel just as night falls. There he meets Robert Coen a white journalist obsessed with Malian music and Malian politics—Robert agrees to take Vieux north the next day.
Along the road, the men briefly stop in Dogon County where another person reports a vision of Vieux's father walking in the wind, this time on the cliffs above the Dogon Villages. Vieux asks the Chief of Amani to take him up the cliff in hopes of seeing his father's spirit but instead of his father's spirit, he finds an old witch doctor that has lost his mind. Coming down the cliff deflated, Vieux is drawn by the beating of traditional drums into a chaotic Dogon masquerade.
As Vieux and Robert drive deeper into the desert, they pass Tuareg and Peul camps where their presence is felt. Finally reaching the edge of the Gao region, they are attacked and kidnapped by jihadists. A jihadist interrogates Vieux, declaring his father's djurkel illegal under sharia law. Before his eyes, the jihadist burns the djurkel. Vieux watches the flames as the jihadist tries to convert him with promises of economic and spiritual salvation.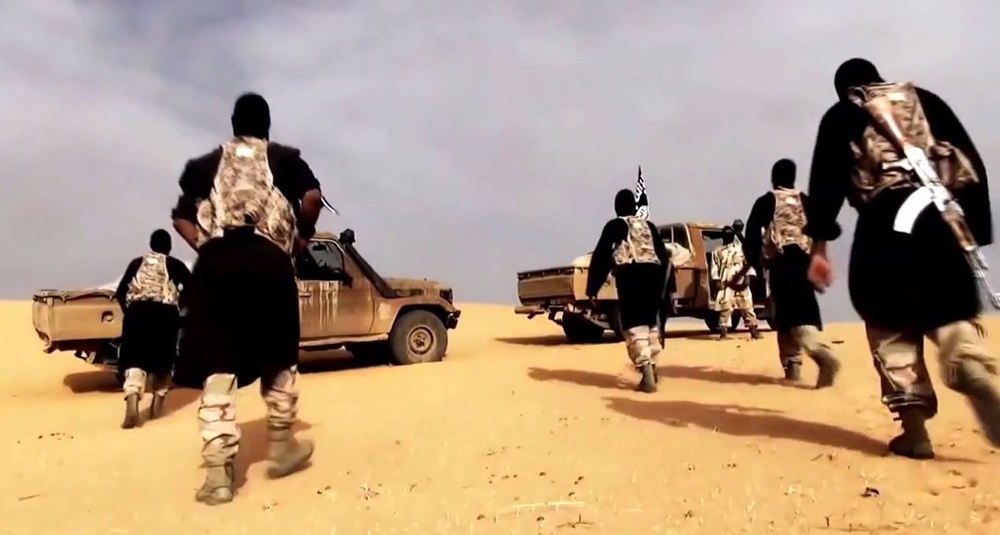 The next morning the jihadists deliver Vieux and Robert to a more moderate faction of their movement, the MNLA, who take the men north via camel train. Uncertain of his fate, Vieux tries to connect with his captors, asking them if they know his father's old friend, the warlord, Chieck Oumar. When the sun rises, Chieck and his men have arrived and Vieux and Robert are peacefully surrendered to Chieck—the bonds of his father's friendship run deeper than the passing alliances of war.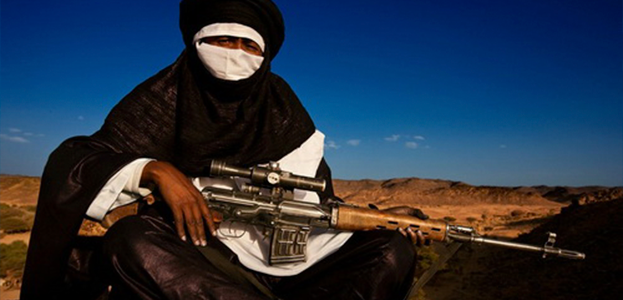 At Chieck's desert compound, Vieux is forced to face the fact that his trucks have most likely been lost. Still not ready to give up, he tries stealing a motorcycle from Chieck but is caught. Laughing, Chieck likens Vieux's stubbornness to his father's and gives him the bike but, unbeknownst to Vieux, sends him deliberately in the wrong direction, away from his trucks in Gao and towards his family's home in Niafunke.
By the time Vieux realizes he is on the edge of Timbuktu instead of Gao, it is too late. Vieux hears the rumbles of vehicles in the distance and watches as a convoy of trucks, possibly his own, drive by. Vieux does not give chase. Instead he sees, for the first time, his future more clearly and begins to long for his ancestral home and his mother. Realizing he is not far from his home in Niafunke he enlists the help of Ibrahim, an ex Tuareg rebel, to help him get there. On the way, they are engaged in a gunfight by a jihadist patrol and Ibrahim, still loyal to the Tuareg nationalists who have begun fighting the Jihadists, stays behind as Vieux gets away, covering the last distance on his own.
Weary and emotional, Vieux arrives in Niafunke to find his family's house locked and empty. He searches the town for his mother, finding instead Samba Toure, his father's close friend, waiting on the outskirts of town for the spirit of Ali to appear. Samba tells Vieux that his mother is in a nearby village where the maribou are gathered to honor the spirit of his father.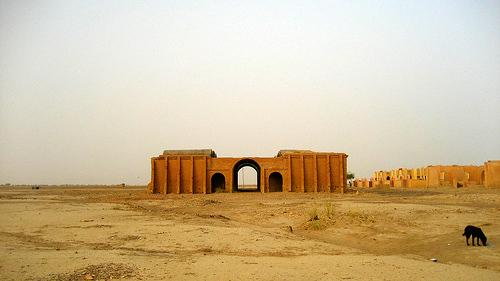 Vieux hears the sound of the spirit dancers in the village before he sees them. He finds his mother in the middle of the crowd. As the dancers preform the traditional spirit channeler's dance of the Songhai she gives him his father's guitar, the same guitar that his father's spirit carried. Vieux sits and watches the dance, pounding out the rhythm of the music on his knee.
Overcome with emotion at seeing his mother safe, and realizing the depth of his own connection to the spirits, Vieux leaves and rides north into the war zone, his father's guitar slung over his shoulder. Reaching the Red Dune, Vieux stops and walks, feet deep in the sand of his homeland. At the summit, he sits and looks out, his hands on the guitar. He starts to play "Ai Du" slowly at first but soon with the increasing passion of a grand master. He plays, looking out over the river into the desert, playing for his father, playing for his own lost years, playing for his country.
Vieux Farka Touré – Ai du Live

As he plays the image fades, replaced by 2005 documentary footage of Vieux and his father on the floor of a recording studio playing 'Ai Du.' They play together, as father and son and we fade to black.
CHARACTER BEAKDOWN
The majority of our actors are themselves the great musicians of Mali. They, for the most part, play roles close to their real life selves. Extensive interviews have been conducted prior to writing the script so as to create a framework in which the actors can speak, both in style and content, as they do in their real lives. They will also have a chance in the film to showcase their musical skills playing new compositions of their classic songs on screen.
-All of the actors with a star (*) next to their name are musicians that have already committed to preforming in Vieux Mali-
VIEUX FARKA TOURE (30)* – Vieux is the son of Ali Farka Toure, Mali's greatest desert blues man. After Ali's death in 2006 Vieux left the family home—Niafunke—and business—music—to pursue a career selling vehicles in Bamako's crowded marketplace. With his career hanging in the balance Vieux is forced to travel north towards his ancestral home in the hopes of rescuing his last ditch business effort. Unfortunately for him his journey north coincides with a Tuareg rebellion and its quick southbound advance. Along the way Vieux, in order to survive, is forced to reconnect with his father's friends—the great musicians of Mali—and through them the traditional spirit of the country.
TOUMANI DIABATE (50)* – Toumani Diabate, a long time friend of Ali Farka's and a de facto father figure to Vieux, pushes him to come back into the fold, encouraging him repeatedly to play the guitar as his father did.
SIDIKI DIABATE (25)* – Sidiki, Toumani's son, is steeped in the traditional music of Mali while also bridging the gap between the old school and the new. His success is large and difficult for Vieux to bear even when Vieux, against his will, enlists Sidiki's help to get his journey north underway.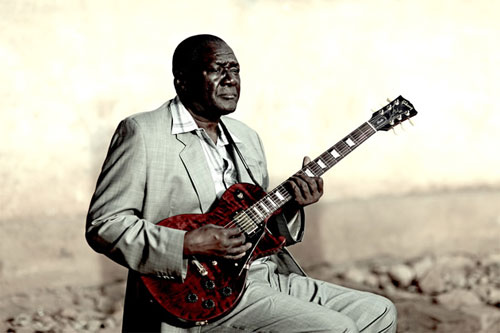 DJELIMADY TOUNKARA (60)* – Djelimady Tounkara, is one of the greatest Griots (praise singers) Mali has ever produced. He represents a lineage that is key to understanding Mali's musical heritage. In the film he performs at a circumcision ceremony that acts as Vieux's unlikely, and at the time unrecognized, rebirth.
YOUSSOUF COULIBALY (20) – Youssuf is a Bamako gangster who, devoid of any connection to Mali's traditions, swindles Vieux out of his father's sacred guitar and guides him in the wrong direction.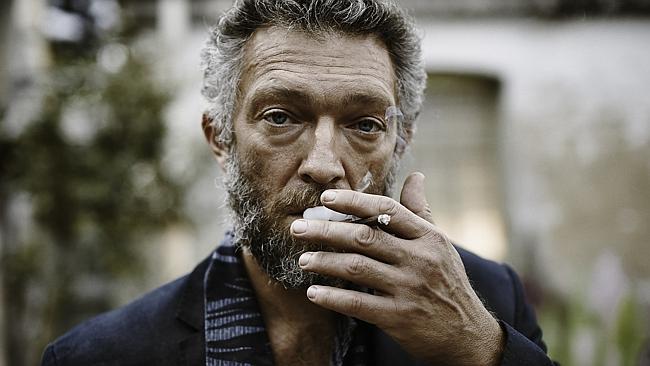 ROBERT COEN (40) – Robert is a troubled French Journalist who is obsessed with Mali, its culture and especially its complex political situation. He initially mocks Vieux when they meet in Bamako but later, in the north, when confronted with an opportunity to help the young man, recognizes his feeling of responsibility. Despite his best intentions Robert acts as a hindrance to Vieux rather than an advantage.
FALICIEN TOURE (35) – Falicien is an uncle of Vieux's who is in command of an Army battalion north of the capital. Vieux calls on him for help in planning the best route north. Falicien tries hard to dissuade Vieux from traveling during this difficult and dangerous time but Vieux will not listen and eventually Falicien plots Vieux's course for him. Despite his early instincts not to help Vieux, Falicien does give him one important piece of advice—stay off the roads at night.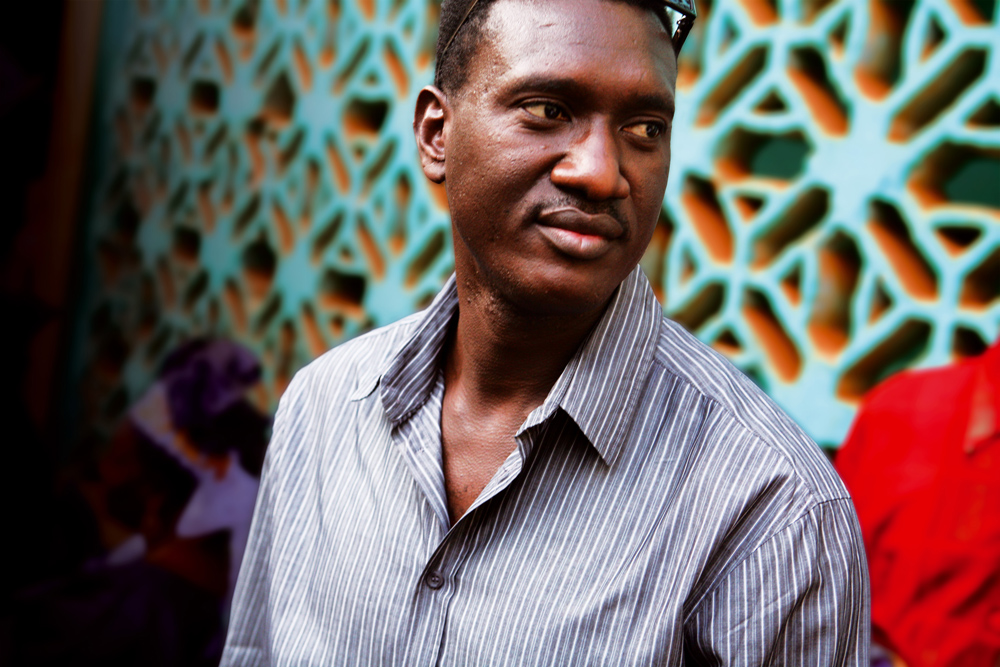 BASSEKOU KOUYATE (35)* – Bassekou is Mali's premier traditional lute player as well as an expert mechanic. Vieux comes to him for help in the town of Garana when his bike breaks down. Bassekou, unwittingly, acts as a spirit guide to Vieux, bridging the gap between the city and the country by creating a situation in which Vieux meets with a priest of Mali's old religion.
SIDI TOURE (40)* – Sidi is a guitarist from Gao, the city in northern Mali where Vieux's trucks have been impounded. With the city under sieged, Sidi was forced to leave.  He encounters Vieux in Djenne where they have both taken refuge for the night. He is one of many refugees that Vieux encounters on his trek north but Bassekou is the first to tell Vieux of the danger in the north, where Vieux is hell bent on going.
AFEL BOCOUM (55)* – Afel, a long time friend, maybe the best friend, of Ali Farka Toure, is another one of Vieux's de facto father figures. He, unlike Toumani, has very little empathy for Vieux's struggles and finds it repugnant that Vieux has forsaken his family's sacred musical calling. In a moment of fatherly discipline, he forces Vieux to join in the crépissage of the Grand Mosque of Djenne, an act that moves Vieux, without his knowledge, closer to the world of Mali's traditional spirits—his father's world.
BOUBACAR TRAOURE (65) – Kar Kar, as he is known, is another friend of Ali's who guides Vieux on his voyage. He, unlike Ali's other friends, has drifted into early dementia, but from this state he is able to communicate with the spirit world. When Vieux arrives at Kar Kar's home he does so on the heels of a dream Kar Kar has had. In the dream Ali was standing on the cliffs of Pays Dogon, in the east of Mali, telling Kar Kar that his son must come to him and that Kar Kar is to give Vieux Ali's own Djurkel, a small traditional violin. Vieux deliberates as to whether or not to take this talisman but eventually takes it with him.
BABA SALAH (40)* –  Baba is a young guitarist who has the highest respect for the Toure lineage. His career as a guitarist, he believes, is owed to the inspiration that Ali Farka offered. When he encounters a down on his luck Vieux, he endeavors to help him in any way that he can and eventually finds him a boat that will take him north.
AYOUBA (50) – Ayouba is an oral historian and an expert at navigating the river. Out of respect for the Malian traditional spirit of generosity he agrees to take Vieux north on the river free of charge, putting himself at risk in the process.
CHRISTINE (60) – Christine is a slightly deranged hotelier who is running a small boarding house in the desert. Her flirting bothers Vieux and acts as encouragement to get back on the road. She is the catalyst that reconnects Vieux and Robert Coen.
YANOU (35) – Yanou is the son of the Chief of Ameni, a Dogon village that Robert Coen forces Vieux to stop at. Yanou is in charge of guiding Vieux and Robert through the village and its traditions. He eventually leads them into the throws of a Dogon mask dance that alters Vieux's view of the spiritual landscape.
JHADIST COMMANDER (40) – This non-Malian Jihadist kidnaps Vieux and Robert as they travel into the desert north of Pays Dogon. He is hell bent on getting a ransom payment for Robert and equally focused on converting Vieux into a soldier in the service of the cause of fundamental Islam. He tries both violence and bribery to do so but Vieux, beginning at this point to look in the direction of the traditional Malian values, does not convert.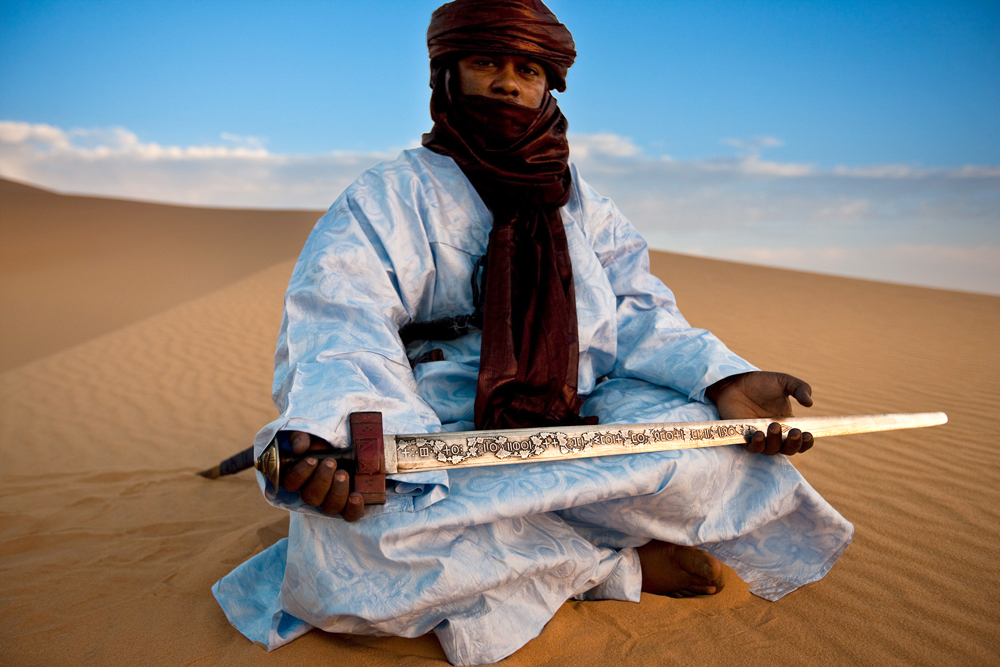 RADAWAN (60) – Radawan is the head of the Tuareg band that has been given the responsibility of moving Vieux and Robert up to the north of the country so that ransom negotiations can begin for Robert. He has fought in many of the previous Tuareg rebellions and seems to understand the complexities and history of these conflicts better than anyone. He decides, despite his allegiance to the MNLA, to hand Vieux and Robert over to Cheick Oumar because of his respect for both Cheick and the Toure family's history.
MOHAMED ISSA AG OMER (55)* – Mohamed, a member of Radawan's group, helps transport Vieux north but he worries aloud throughout their journey about their nationalist goals being coopted by the Jihadists they are helping. He and his band, Tartit, play music in the desert, an action that is outlawed under Sharia Law.
CHEICK OUMAR (PLAYED BY SALIF KEITA) (55)* – Cheick Oumar is a smooth talking drug lord who runs the underworld of the Gao region. He rescues Vieux from the Tuareg who have taken him hostage and guides Vieux away from his trucks in Gao, toward his family's home in Niafunke.
BOMBINO (35)* – Bombino is a Tuareg guitarist from neighboring Niger. He has been living in Gao with his wife's family but has since had to flee from the persecution of the jihadists who burned the radio station that he was working at. When he encounters Vieux and Robert in the desert he is still traumatized by the experience and hasn't played the guitar since. With his wife's, and Vieux's uncharacteristic, encouragement he decides to play again. His song, "What shall I do?" drives Vieux into Timbuktu.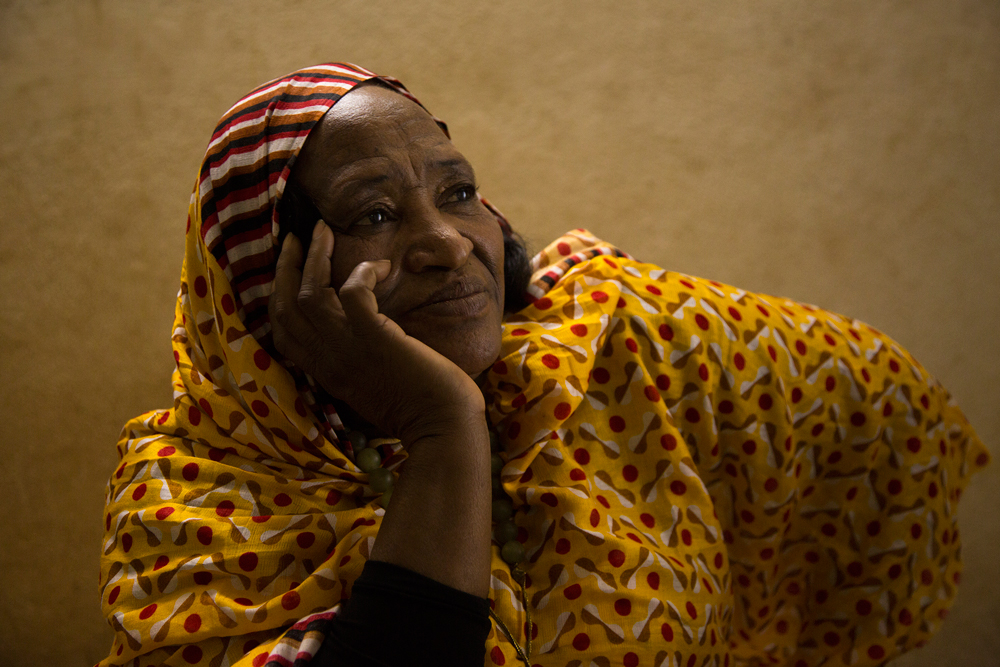 KHAIRA ARBY (65)* – Khaira the "Diva of Timbuktu" is like an aunt to Vieux. When he arrives in Timbuktu, weary from the road, it is Khaira that takes him in. She makes clear to him just how dangerous his passage to Niafunke will be and sets him up with help to negotiate this final leg of his journey, but not before predicting the eventual Jihadist take over of the north.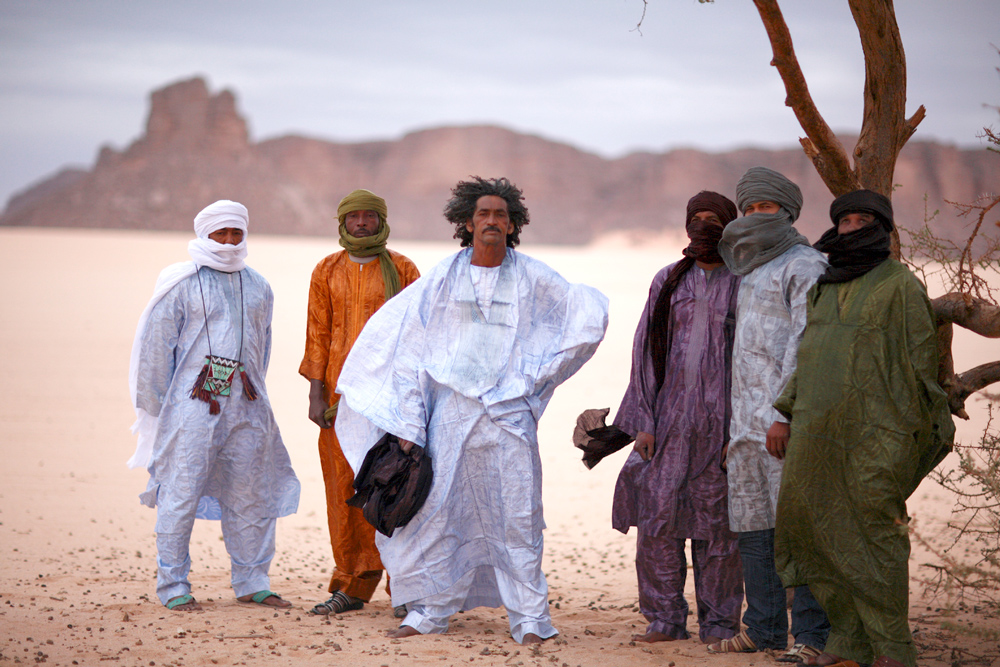 IBRAHIM (45) – Ibrahim is the leader of the world-renowned Tuareg group, Tinariwen. His songs were the call to arms and the secret codes of the Tuareg rebellions. At the behest of Khaira, he takes on the responsibility of ferrying Vieux home from Timbuktu and fighting off the advancing jihadists that block their path. His allegiances lie with the true soul of the Tuareg people—the music.
SAMBA TOURE (70) – Samba is a longtime friend of the Toure family. He has known both Ali and Vieux from childhood. When Vieux arrives in Niafunke to find his mother missing it is Samba that he turns to. Samba guides him to find his mother and in the process clues him into a part of his family's history that he did not know—the history of his grand mother the great marabou of Niafunke and the relationship she fostered between Ali and the spirit world.
YAY-YA TOURE (60) – Yay-ya, Vieux's mother, is deeply connected to the spirits and the traditional religion of their tribe, the Songhai. She will not leave Niafunke even in the face of the impending war. When Vieux finally finds her she is preparing for a Hollei Horey ceremony—the sacred dance of the Songhai spirit channelers. It is there that she gives Vieux one of his father's guitars and encourages him to join in making the music for the ceremony, which he initially refuses to do but eventually, caught by the spirit of the ceremony, participates in. Opening up to the realm of the spirits, through the playing of this holy music, Vieux finally reconnects with his father.